We supply equipment from world renowned manufactures whom are ranked among the leading providers of medical technology and services for Intensive Care Units. Nexus Medical Limited is your first call, single source provider for Intensive / critical care equipment.
EMERGENCY TRANSPORT VENTILATION  

---
OXYLOG 1000
​

The Oxylog® 1000 offers first aid ventilation of patients in emergency situations. Designed to be used outdoors, its intuitive operation, robustness and transportability make the Oxylog® 1000 complete in its class. The ventilator has integrated audible and visual alarms that monitor both the airway pressure and supply pressure to aid in patient safety.
OXYLOG 3000+
Rise up to the challenge in transport ventilation with the Oxylog 3000 plus. Offering high performance ventilation with features such as AutoFlow®, integrated capnography and non-invasive ventilation, the compact and robust Oxylog 3000 plus helps you treat and transport your patients safely and provides the feedback you need on the effectiveness of ventilation therapy.
ICU VENTILATION AND RESPIRATORY MONITORING   

---
PULMOVISTA® 500
​A lung-protective ventilation strategy requires optimal PEEP and tidal volume settings. Finding and maintaining these crucial settings during the course of therapy is challenging – even for experienced clinicians. Global parameters, which reflect the condition of the lung as a whole, do not provide a continuous picture of the patient's pulmonary function. . Making ventilation visible. Put the power of Electrical Impedance Tomography (EIT) to work for you and your patients. With the PulmoVista 500, you can visualise regional air distribution within the lungs – non-invasive, in real time and directly at bedside. 
EVITA INFINITY® V500
Combine fully-featured, high-performance ventilation with Infinity® Acute Care System™ integration to meet the challenges of today's health care environment.

Lung diagnostic tools like the Low Flow maneuver (inflection points)
Breath by breath recruitment trends (e.g. PEEP, EIP, VT, Cdyn)
Recruitment tools (e.g. lnspiration Hold, QuickSet, PressureLink)
PC-APRV with AutoRelease
Volumetric CO2-Monitoring (VCO2, VTCO2, Slope Phase 3, Vds/VTe)
Weaning parameter (e.g. RSBi, P0.1, NIF)
Automatic weaning with SmartCare/PS®
NEO NATAL ICU VENTILATION 

---
DRAGER BABYLOG VN500
The Babylog® VN5001 provides comprehensive, state-of-the-art ventilation therapy for neonatal and paediatric patients. Conventional and non-invasive ventilation as well as powerful High Frequency Oscillation and even oxygen therapy give you the entire spectrum of modern neonatal ventilation therapy in a single device. Enter a new era of neonatal respiratory support. The Babylog® VN500 combines our years of experience and dedication with the latest innovative technology in the field of neonatal ventilation. The result is a complete, integrated ventilation solution for the tiniest of patients. Move on toward new frontiers today and be prepared for the developments of tomorrow.
BABYLOG® 8000 PLUS
Move up to a milestone in neonatal respiratory care with a worldwide accepted ventilator designed especially with the smallest patients in mind.
Sensitive, accurate synchronisation and continuous adaptation features work together to provide the necessary ventilator support, allow optimal levels of spontaneous breathing, facilitate the weaning process and protect the baby from adverse effects such as volutrauma or atelectasis.
SUB-ACUTE CARE VENTILATION 

---
DRÄGER SAVINA® 300
The Savina 300 is designed to meet the ventilation needs of even the most critically-ill patients, yet it is very simple to operate and maintain as well as flexible enough to be used nearly anywhere in your hospital.
Infrastructure and logistical challenges shouldn't interfere with quality care. The Savina 300 provides high performance ventilation therapy for adult and pediatric patients of all acuity levels, regardless of the care setting.
Around the globe, Savina ventilators have logged more than 400 million hours of therapy time, setting standards for quality and reliability. The new Savina 300 is no exception – its integrated safety concept was designed to protect your patients even under the most demanding conditions.
CARINA®
With Carina®,Dräger has developed an innovative,high performance NIV ventilator that is comfortable for both the patient and the caregiver. This compact, mobile unit optimizes workflow and workspace usage. Carina recognizes changes in flow parameters and patient status, and offers a range of ventilation modes for spontaneous and mandatory ventilation. The integrated blender can supply oxygen concentrations from 21-100%, thus providing just the right amount of support while giving the patient room to breathe. Should the need arise, Carina can also be used for invasive ventilation.
LIFEPAK 15
The LIFEPAK® 15 monitor/defibrillator is the new standard in emergency care for ALS teams who want the most clinically innovative, operationally effective, and LIFEPAK TOUGH™ device available today. With more monitoring capabilities than any other monitor/defibrillator, the 15 gives you EtCO2 with continuous waveform capture*. Masimo® Rainbow® technology helps you detect hard-to-diagnose conditions and improve patient care with noninvasive monitoring of carbon monoxide, SpO2 and methemoglobin. In addition, the 15 now offers temperature monitoring—and like other data, you can transmit it to other systems, trend it, or display for post-event review in CODE-STAT™ data review software.
LIFEPAK 20e
LIFEPAK 20e Defibrillator/Monitor with CodeManagement Module
Clinically advanced and packed with power, the LIFEPAK® 20e defibrillator/monitor is highly intuitive for first responders, and also skillfully combines AED function with manual capability so that ACLS-trained clinicians can quickly and easily deliver advanced therapeutic care. The CodeManagement Module™ adds waveform capnography and wireless connectivity to enhance your hospital's ability to effectively manage resuscitations from preparedness through review.
Infinity® M540
Streamline workflows with a monitor that goes from bedside to transport in the push of a button. Leave cables and modules attached to your patient and continue monitoring parameters and alarms in real time, while recording data during travel. Use the Infinity® M540 as a standalone monitor, or integrate it with hospital IT to access clinical information systems and data analysis applications.
ABL800 FLEX blood gas analyzer
---
The ABL800 FLEX blood gas analyzer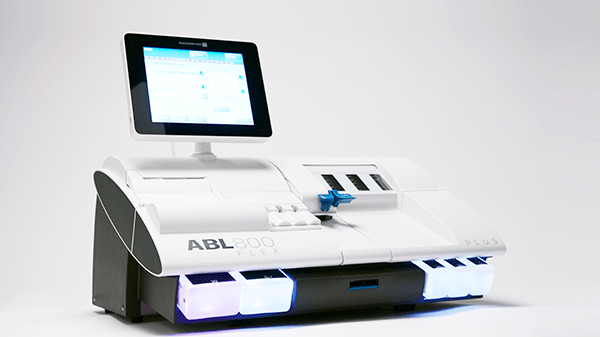 This supports fast diagnosis of critically ill patients and reduces the risks and patient discomfort associated with a need for collection of several blood samples.